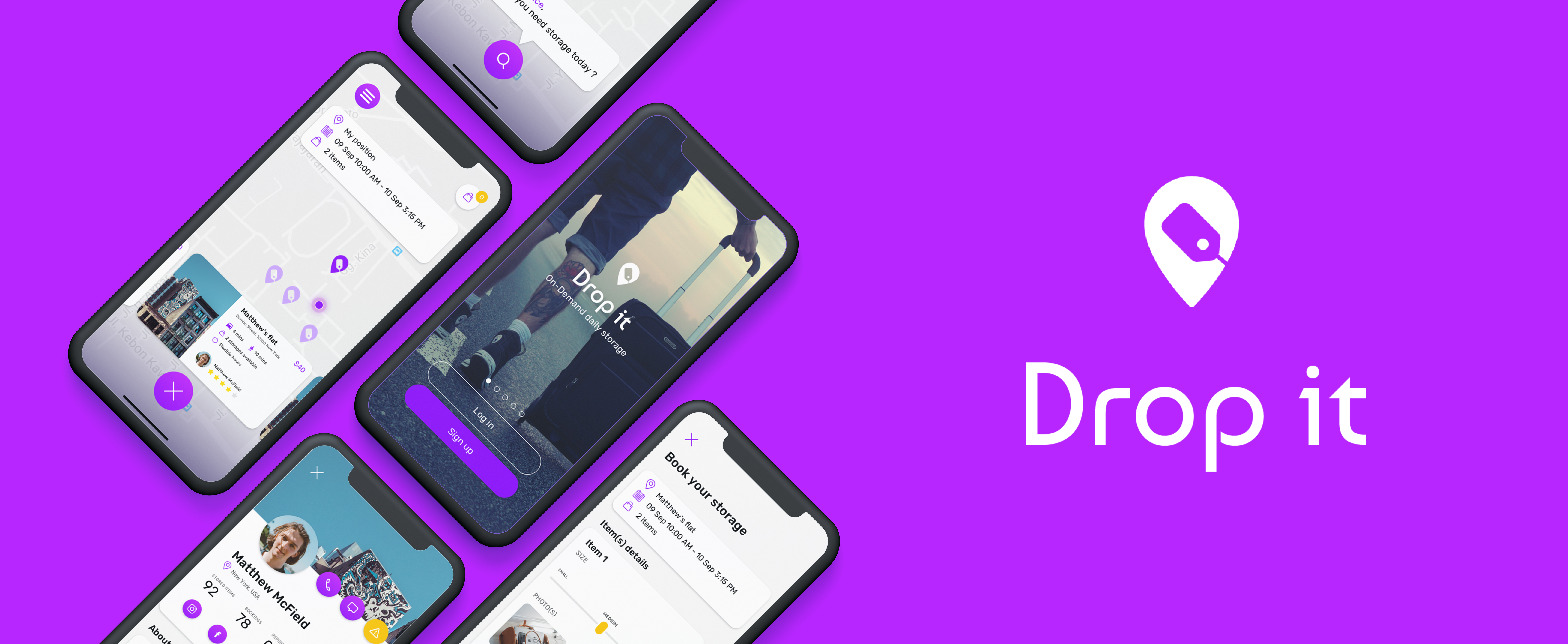 Drop It
Ideation
User Research
UX/UI Design
Low/Mid/High-Fi Prototype
Usability Testing
Brand Identity

︎ 4 months
︎ Individual work
Enjoy a stress-free day with Drop It. Find the nearest on-demand storage near you in seconds, and drop off your bag(s) easily wherever you are at one of our Guardian's place. Keep your cool, storage hours are flexible and you can be sure your items are in safe hands!
Drop It offers you someone's home as a place to store your bags instead of public lockers or storages.


This is an individual project, I conducted the research and design process on this mobile app as my final "Major Studio" project at Parsons School of Design.
Try the prototype
Displayed on Parsons School of Design's website
Living in or visiting a big city like New York can be very stressful for travelers and busy city dwellers. When carrying luggages, backpacks and not living in the city center, they usually struggle to find a cheap, convenient and quick on-demand storage.

The goal was to make bag storage service experience quicker, easier and more social while travelers and packed users enjoy a stress-free day.
I interviewed usual traverlers and city suburbanites about their journey in a big city while carrying unconvenient bags. I analyzed their answers, build their user journey and came up with 4 major insights.


Experience Map
I conducted user interviews in order to better know my stakeholders' behavior. I interviewed active city dwellers as well as suburbanites —both have different lifestyle and schedule.

I made up a persona and analysed users' emotions throughout their journey in order to come up with opportunities.



Insights & Opportunities
After synthesizing my user research into insights, I concluded with 4 "How Might We's".

I sketched wireframes and built prototypes focusing on these opportunities.
I grouped my insights and "how might we"s and decided to focus my design on 4 main features :
- Look for a storage
- Book a storage
- Easy access to current booking
- Secure way to dropoff/pick up

After a few user testings on my Low-Fi sketches, I digitalized my wireframes and started to think of polarizing prototypes.
My first idea was to design a navigation bar with 5 features. I thought about 2 ways to search/book a storage:

1. Advanced Research – search/book anytime anywhere.
2. Around Me – search/book near the user's current position only.
I tested both polarizing prototypes to users and they helped me to choose the most appropriate UX for this app.
Mid-Fi: Usability Testing
After a few user testings, I have decided to keep the map within the "search" screen (A) and the "pick a storage" screen (A) as they seemed to be the most intuitive and easy interfaces.
Concerning the navigation bar, I have replaced the "Advanced search" feature by "My Bookings" feature. I grouped the 2 ways of searching a storage into one feature "Around Me".

"My Bookings" feature enables the user to have an easy access to their current/past/future bookings.


I gathered all the insights from my research and mapped the product's information architecture into a sitemap.
Using the MSCW method and my previous prototypes, I started to think about Drop It's brand identity and UI.
After several user testings, I have decided to remove the navigation bar and to simplify the home screen with one main search button.


This UX is more appropriate for busy packed users as they can now only use one hand to search a storage.